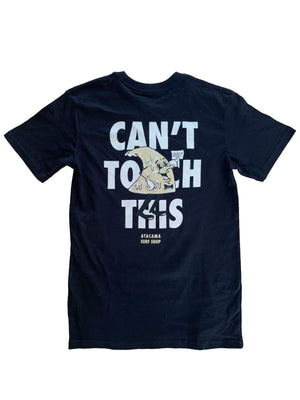 Atacama Surf Shop
CANT TOUCH THIS TEE
Sale price Price $28.00 Regular price Unit price / per
Man this tee has been in the works for a very long time.  Its the follow up to one of our first tees from Artist Mele Saili titled "Ca$h me outside".  Originally Mele had three pieces of art that she made for one of her art shows and I was lucky to buy all three not knowing how I would use the art.  "Ca$h me outside" has been reprinted numerous times while we were stuck staring at the brown wave in our office.... only until Covid hit.... then we were able to unlock our creative minds. 
Can touch this stems from the local beach shut downs from Covid 19.  Its to point fun at how ridiculous people were when they couldn't surf and the waves were complete shit, but yet now when I go to the beach and see glassy chest high days there is now one there.  People will always have something to complain about, but we wanted to mark this point in time when surfing was taken away from us.
Big thanks to my Crew that helped me piece this one together.